General Infomation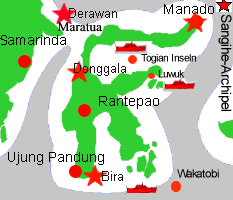 With the exception of some small plaines near the coast, the island of Sulawesi in Indonesia consists of high mountain ranges up to 3500 m, which are still covered with dense tropical jungle. For the visitor Sulawesi offers stunning landscapes. There are active volcanos in the north, spectacular mountains and lakes in the interior and beautiful beaches everywhere - the sea is nowhere further than 40 km away. Also flora and fauna is exceptional: Sulawesi has been separated from the asian mainland since the ice age. So animals and plants could develop here, which are not found anywhere else on this world. 90 % of the mamals in Sulawesi are endemic, among them the Babi rusa, a mixture of deer and wild pig, 3 species of dwarf buffaloes and the smallest monkey of the world, Tarsius spectrum.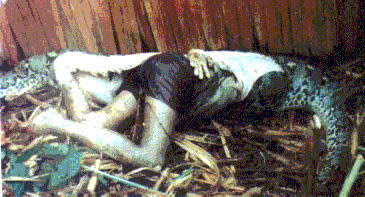 The main part of the inhabitants live on the northern and southern part of the island. The interior and the south-east is only sparcely inhabited. In the coastal areas are mainly malayen settlements while the central mountain region is home of the Toraja people, whose burial ceremonies attrack many tourist every year. There are even remote areas where people still hunt with blow pipes.
Diving
One of the best Indonesian dive spots is situated in the north of Sulawesi. Manado, the capital of northern Sulawesi, can be reached from Jakarta or Singapore in 4h. There is excellent diving at the coral walls of the islands in front of Manado. Visibility is usually very good (25 to 30 m) and biodiversity is extremely high. This is actually one of the rare hotspots of biodiversity in the world.
Water temperature is usually around 28°C all year round. The reefs have been monitored systematically for nearly 30 years now and still new species are discovered. The whole area with the islands of Bunaken, Manado Tua, Siladen, Montehage and Nain have been declared a national park, which actually does not mean much in Indonesia, but it is a chance for the future preservation of this outstanding diving area.
Since mid-1998 the North Sulawesi Watersport Association (NSWA), an association of most of the dive centres in the region, has improved the protection of the reefs. There is an entrance fee for the national park to be paid now (15 US $ in 2002). The money is used to pay rangers who are in charge of controling the national park rules. Since these rangers are on duty numbers of fish have increased considerably.
The islands are situated in the Sulawesi See which reaches a depth of 6 km. Already on the short trip from Manado to the islands there is aproxymately 1500 m of water below the boat. The sea here still contains many secrets. In 1998 even a new habitat of the Coelacanth, Latimeria menadoensis, was discovered. This living fossil belongs to the tassel-finned fishes and first appeared 370 million years from present. Also in 2002 a dive guide from Froggies discovered a new species of Pigmy Seahorse. So there there is a constant flow of macro photographers coming to Manado to complete their collections of uw-photos.

Also pelagics are often seen: Sharks, schools of barracuda, tuna, napoleon and turtles. Most interesting however are the vertical walls covered with hard- and soft coral and the enormous amount of rare fish, shrimps and crustacea.


Dive Centres of Manado
In 1991, when we were in Manado for the first time, there were only three dive centres. In the meantime (2008) there are more than 30 different dive operators - some of them offering diving with very poor standards. I really recommend to check equipement and qualification of the staff before joining a dive centre. Up-to-date and reliable information can also be found on Peterīs North-Sulawesi-Info-Page.
In 1991 we dove with the Nusantara Diving Centre (NDC), the first and oldest base in the area which closed operation in 2008 after a lot of complaints from unsatisfied customers.
Also on the mainland is situated Murex in the west of Manado. It takes quite a time from there to reach the dive spots near Bunaken.
From the newer dive centres on Bunaken Froggies used to be our favourite place. Under the very competent leadership of Christiane this Padi-centre offers diving in small groups with highly motivated and well informed local guides. That is why a lot of underwater fotographers and filmers regulary visit this dive base. Froggies support conservative security standards. The dives last long (up to 90 minutes) but are usually not too deep (max. 30 m). Hard core deep divers should choose another centre.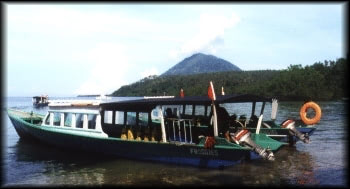 In August 2008 we paid at Froggies for two dives including one meal 60 US$. The bungalows of Froggies are very comfortable and still offer the best comfort on Bunaken. However with 25 US$/pp for full board they are no cheap bargain. It is also possible to stay in a cheaper homestay next door and dive with Froggies.
Froggies also offer 4-day-trips to Lembeh-Strait on board of their new live aboard the Sanny. This is a good opportunity to dive the best dive sites of Lembeh and also the excellent spots off the northern Sulawesi coast and Bangka.
Important Update (2010):
Since mid-2009 Christiane Muller has retired from Froggies. The resort has been sold to 'Bastianos' another dive centre in the neighbourhood. Bastianos never had a good reputation and there are already complaints of unsatisfied former Froggies' guests. There will - or allready is - a decline in service and standards of quality.
Celebes Divers, a dive centre led by Italien marine biologists, also has a good reputation.
Since April 2002 another new dive centre has opened: Living Colours on the eastern side of Bunaken behind a mangrove beach offer comfortable, airy bungalows. Jaakko, a Finn, offers diving for younger people and pleasure divers. The dive centre boasts of new and well looked after material and the Safety-Stop-Bar at the beach offers drinks and music after a long day diving. Contrary to Froggies on the other side of Bunaken this resort is depending on the tides. If you are unlucky there are no night dives because it is low tide.
In 26 - 28°C warm water a 3mm wetsuit is recommended. Also there are sometimes cold currents which make you freeze. And for all those who want to continue and dive in Bali or Bira it is even adviceable to take something warmer than 3 mm. In April 1999, in August 2000 and also in 2002 we did only discover minor destructions caused by El-Nino. The water got very warm in the summer of 1998 but the deep sea around the national park and the exchange of cold water from the depth prevented an overheating of the water like on the maldives during the same time. All dives we made in 1999, 2001 and 2002 were definitely above average. Also since the rangers of th NSWA consequentely supervise the fish catching limits inside the park boundaries, big fish have become more abundant than before. On Bunaken night-dives are a must. These belong to the best dives we ever did.


Diving in Donggala
On our way from Manado to the south we ran into a nice surprise in Palu, the capital of central Sulawesi. We had already heard in Manado from a German who had opened an ice saloon in this remote place but were very surprised when we met Peter and Maureen Meroniak at last in their resort. They did not only own the famous ice saloon we had already heard of, but also only 40 km outside Palu near the sleepy harbour of Donggala a nice resort in Tanjung Karang (Coral peninsula). The resort is situated close to the sea behind a nice and clean beach. You can stay in the bungalows for 15 US$/pp.
Prince John Dive Resort is situated next to a small village. The villagers also rent rooms if Peterīs place is full. In the meantime there are also other cheaper resorts on the other side of the village where prices are considerably lower.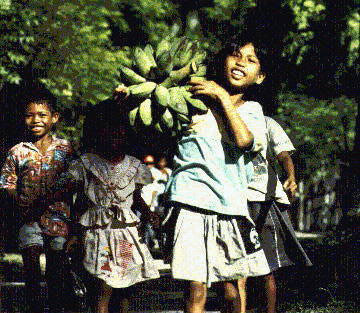 Nowadays there is also electricity from 6 p.m. so you can read on the large balconies of the bungalows and there is cold beer available all day . In front of the bungalows and the large area where dive shop and restaurant are situated there is a nice beach with white sand. The beach is cleaned every day in the morning. For those who like sailing or surfing, there are boards and boats for rent at the resort. There are minor damages to the coral due mostly to large numbers of local snorkelers swarming in on weekends. In 2001/2002 the dirt road to the resort was enlarged. So it has got the size of a motorway now, however nobody knows why. The construction work has caused a landslide at a slope next to the resort which has damaged some coral. No nice view! Visibility is not as good as in Manado (20 - 25 m) but there are a lots of fish to be seen. With the resortīs diveboat other dive sites can be reached in a short time. Among them a nice wall on the other side of the bay, which can be reached in 50 minutes.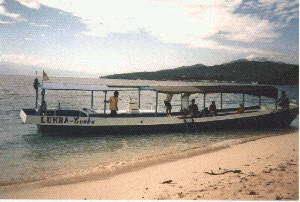 Since 1997 Peter has outsourced the dive business. The competent and professional dive shop is now managed by Alex and Gaby. One dive costs 27 US$. There are special prices for groups and dive packages. There are additional costs if you want to go to the dive spots by boat. In the meantime there is a choice of at least 16 different dive spots. There is nothing very spectacular to be seen in Donggala and the advertisment announcing Manta and Dugongs in the area is exaggerated.
However all those, who are looking for the small and rare things underwater will be happy to stay in Prince John Dive Resort. Nightdives are really exceptional here. There is also a liveaboard available. The "Prince" has 3 double cabins for 6 divers. The resort offers 3 or 4 day-trips to the islands in the north of Donggala. There is an extra compressor and dive boat which accompanies the Prince, so the guests will not be disturbed by the noise.
For experienced divers there is a special highlight in front of Donggala harbour. There are some wrecks at the harbour entrance. The most beautiful and best preserved is the wreck of Gili Raya lying on its side in a depth between 35 and 50 m.
In the meantime we have visited Prince John Dive Resort 6 times and we always enjoyed staying there. It is the ideal place to relax after a long journey or trecking tour.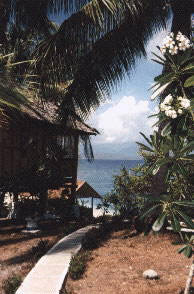 Contact

Diving in Bira
Until September 1997 there existed a new star in the Indonesian diving sky: Bira, a small fishing village in the far south of Sulawesi became a diverīs heaven after Timo and Justi, two Germans from Bavaria, had opened their dive base there. There are long, sandy beaches at Bira but also exceptional dive sites close to the small islands scattered between the mainland and Selayar to the south. Our dives in summer 1997 belong to the best dives we ever did in Indonesia. At our favourite dive spot at Cape Bira we regulary saw big grey reef sharks, black and whitetips and also huge oceanic hammerheads. There were also napoleons, huge groupers, barracudas, eagle rays and tuna. From May to June it is whaleshark season and in August there is the chance to meet manta rays. Even sunfish are seen from time to time. There are also excellent walls covered with beautiful coral.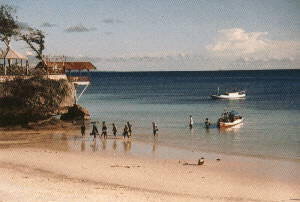 Bira offers diving possibilities for beginners and experienced divers. However currents are very strong especially at the most interesting dive spots which are only suiteable for experienced divers. The diveboats are locally chartered fishing boats and it takes between 15 and 120 minutes to the different dive spots. The boats are small and shaky. You will notice every wave on the way. The water was during our first stay in August 1997 extremely cold (23 - 24°C). We froze in our 3 mm wetsuits very much. I recommend 5 mm wetsuits in the "cold" season in summer! However water temerature is depending on the monsoon season. Water is very warm from September through April. During the rest of the year you better use a thicker wetsuit.
Since September 1997 the situation in Bira has changed dramatically. The German dive base was closed and Timo and Justi were forced to leave the country, after there had been trouble with the local chiefs. The attempt of the Bira Beach Hotel to offer diving with local guides ended in a catastrophe in December 1997. A group of five divers from Japan was caught by a strong current while diving near Pulau Kambing. Even after a search which lasted several weeks nobody was found. Only the inexperienced guide survived and was discovered the next day on an island in the Gulf of Bone. Though the two Germans were already out of the country for more than two months the local and regional press produced articles making the two responsible for the accident.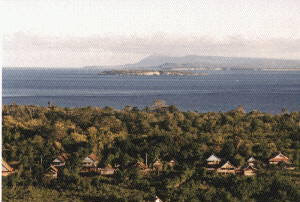 Not knowing what had happened in the meantime we revisited Bira in April 1998. The Bira Beach Hotel not only offered diving but also a "Missing Japanese Tour". Well, we did not do the tour. Instead we dove again around Bira, however under circumstances which were totally different from those we had experienced the summer before. There was a mixture of different 10l and 12l aluminium and steel tanks available and after three days the compressor broke down, so that the tanks had to be taken every day to Makassar to have them refilled. Our diveguide was from Manado, had only 60 logged dives and did not know the dive spots.
During our visits in Bira in 2001 and 2002 we noticed that there was no change in the overall situation. The Bira Beach Hotel is still offering diving. The compressor is still the one which did not work satisfactorily in 1998 and the diveguide is not qualified. Also the price of 35 US$ (maybe negotiable) for one dive is too high. Also we noticed during our visits that dynamite fishing has increased very much. There are some spots completely destroyed which were still in excellent condition in 1998.
Under these circumstances I strongely advice not to dive with the Bira Beach Hotel until the circumstances have improved considerably.
After years of neglect Anda Bungalows have been renovated in 2004 and are now much more comfortable than they used to be. Also a German dive master has taken over the dive shop. A new comfortable dive boat is under construction and will be in use soon. So things seem to be improving.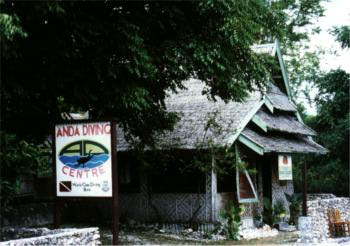 In the months of October - March, Bira is still a major hub for the liveaboard dive market, as most of the Indonesian liveaboards are actually constructed in Tanahberu in the neighbourhood. In these months up to 15 traditional Bugis Schooners can be found in the harbor of Bira, all doing their annual maintenance and most offer quick 3, 5 and 7 day liveaboard trips to Selayar Island and sometimes even as far as the Takabonerate Archipel in the south. So it is always a good idea to ask for special offers among the skippers hanging around in Bira harbour.