The eastern Atolls
With M/V Ciska to Jacques Cousteaus Basecamp
To the east of the Tukang Besi Islands in Indonesia are scattered many small islands and atolls. Jacques Cousteau had his basecamp on the small island Moromaho, which is situated on the far eastern side of the archipelago. From here he studied the biological diversity of the area.
Also this area can be only diven during the short interval between the monsoon seasons in April or October.
In April 2002 we visited the area on board of the Ciska and again we discovered totally untouched coral reefs.
Our 14-day-trip led from Kendari directely to the eastern atolls of the Tukang Besi region and from there further on to Pasar Wajo and Batuata and the east coast of Selayar. Like the year before the trip ended in Bira on the south-western tip of Sulawesi.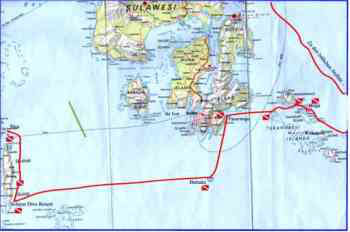 There are no dive reports from the eastern atolls. So most of our dives were exploratory.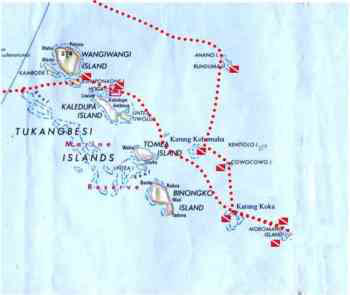 Ronduma and Karang Kohomaha
We did our first dives off Ananao, a small island north of Ronduma. All our dives took place on the western side of the island at a wall which was covered by hard- and soft coral and lots of gorgonian fans. With visibility exceeding 30 m we discovered several leaf scorpion fish and also a turtle. Especially the reef top was in excellent condition. During another dive in the afternoon directly in front of a nice beach we met dogtooth tuna and schools of jacks. A nightdive at the same spot turned out rather disappointing.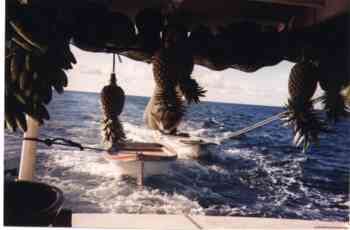 From Karang Koromaha, about 40 km further south, it is possible to see Tomea to the west. However, fishermen from this big island come here very seldom for fishing. The sea is normally very rough and the boats the people use are not very reliable. We anchored in the interior of the large atoll which is 6 km in diameter together with two small fishing boats which had come all the way from Kaledupa. We met them also during daytime and watched them fishing with lines.
During our stay we dove mostly in the north-west and north-east of the atoll, close to the natural entrance of the lagoon. Near the entrance there are at certain times strong currents. On the other hand we hoped to see the big pelagics there.
All the dives were very interesting: We dove at steep slopes covered by big whip coral and deep walls with overhangs and a lot of black coral and gorgonian fans. Also here the reef top was in perfect condition and the diversity of hard- and soft coral was spectacular. However the big fish did not show. We saw some big tuna, one whitetip reef shark, eagle rays, big groupers, barracudas and of course turtles.

Karang Koka
After a short stop over at Pulau Cowocowo, a small island covered with palms and jungle we reached Karang Koka.
Karang Koka is even bigger than Karang Koromaha and has two natural entrances, one in the south and the other one on the north-eastern side. We dove the northern and western side of the atoll and found walls and steep slopes. Coral growth was very dense everywhere and in some places we discovered gorgonians of enormous size and many black coral. On some spots we had to fight with changing currents.
We saw big schools of fish, jacks, dogtooth tuna, napoleons and eagle rays.
Nightdives inside the lagoon were quite boring. There were staghorn coral on sandy bottom and the usual nightlife.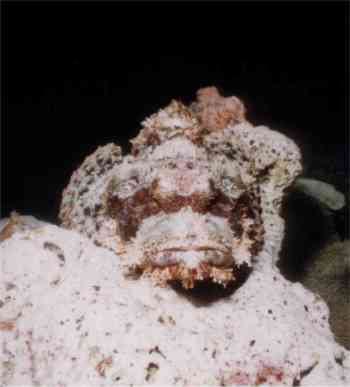 Pulau Moromaho
As there were no possibilities to anchor in front of Pulau Moromaho we decided to stay overnight in the lagoon of Karang Koka. Moromaho is a small island covered with palm trees. It rises sharply from the sea bottom out of 400 m. The flat, large reef top ends abruptly at a more than 60 m deep wall. During our dives the Ciska had to cross all the time in front of the island as there where no natural anchor places to be found.
Our dives in front of the island´s western side were all extremely good. Nowhere else during our trip did we meet so many and big schools of fish, mostly jacks and fussiliers. The walls had many entrances and overhangs. Everywhere there were big gorgonians, black coral and huge barrel sponges. However all the time we had to deal with strong currents. At one spot, there was even a strong down current.
During our visit on the island we found out that the island was at least temporarily inhabited. In the season there are people here to harvest coco-nuts and catch fish. Even fresh water seems to be available. However we prefered the desalinated water on board of the Ciska.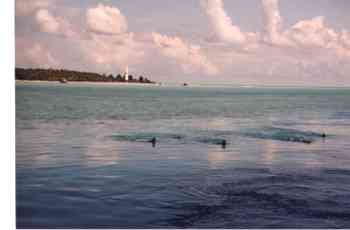 Pulau Hoga
Also this year Hoga offered us some surprises. The reefs here are well protected by volunteers from Operation Wallacea. There is a group of rangers who really act, when somebody destroys the reef. Also fishlife and coral growth show the success of these measures. We saw big groupers, napoleons and a high diversity of marine life. As in 2001 one of our best dives was at the Northern W and the Pinnacles where we saw giant trevallies and jacks hunting other fish.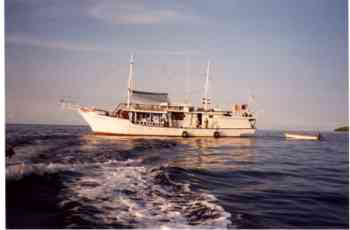 Northern Wall and Pinnacles are no easy dives. During one dive at the Northern Wall we suddenly came into an extremely strong down current which pressed one of us from 12 m to 36 m. He surfaced far away from the boat. For an inexperienced diver this dive could have ended fatally.

Batuata
Batuata or Batuatas means "High Rock". The island is situated halfway between the Tukang Besi Islands and Selayar. The western coast has high limestone cliffs behind a beautiful beach - a perfect setting for a movie. The island is inhabited and there are irregular contacts with Baubau on Buton. In the meantime the 5 villages are on their own.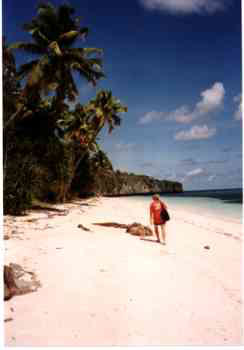 We arrived at Batuata after short stops in Pasarwajo and the Kaledupa Reef. Our dives at the western side of the island were very good. We found a deep wall with huge overhangs and entrances covered with Gorgonians and many soft coral. We met turtles, humphead-parrotfish and schools of jacks.
Batuata certainly is an interesting destination for liveaboard trips in the region. It offers good diving possibilities, scenic sights and beaches and interesting villages and people in the interior.

Selayar und Bira
After a night journey we arrived at the southern tip of Selayar the next morning. Jochen, the owner of Selayar Dive Resort, has succeeded in integrating this area into the Taka Bone Rate National Park. This means all the guests have to pay a national park entrance fee. Hopefulley this money will help to protect this area better than before.
Our dives in the north of the resort at Tanjung Cumi were very interesting. We saw big schools of barracuda there.
On our trip to the north we saw again sperm wales. One of them diving down very close to the ship.
In Bira we met at last more sharks at the end of our trip. We saw them at Pulau Kambing and at Cape Bira. Unfortunately dynamite fishing has encreased enormously during the last years in the area. We heard explosions quite often during our dives and when we visited Mamasa Pinnacles in the north of Bira we found a totally destroyed reef top. This dive site was still very good when we dove there 4 years ago.


zurück