Diving on the Moluccas
General Information
The Maluku Islands, also known as the Moluccas or Spice Islands are situated in the eastern half of Indonesia between Sulawesi to the west and West Papua to the east. The northern Moluccas (Maluku Utara) are formed by the island of Halmahera with the two small but historically important islands of Ternate und Tidore to west. The central Moluccans are formed by the big island of Seram and the relatively small Ambon, the Maluku capital. Further away to the southeast follow the Banda-Islands and the remote Kai-and Aru-Islands and in the south there are further small islands between Wetar and Tanimbar.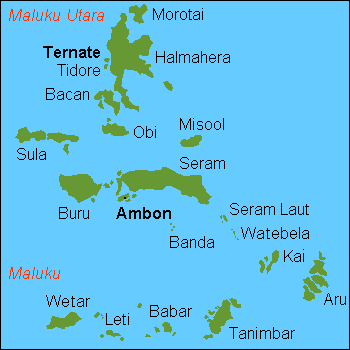 The Portuguese where the first westerners who tried to control the spice trade from 1512 onwards. In 1663 they were pushed out by the Dutch, who were more successful than the Portuguese in controlling the extremely profitable trade with cloves and nutmeg. At the end of the 18th century the British Empire also got hold of parts of the Moluccas. They used their short period of control to export seeds and trees into other parts of the Empire, thus at last weakening decisively the Dutch monopole on spices.
After the proclamation of independence of Indonesia there were attempts on the Moluccas to secede from the newly founded state. However this movement of independence was defeated by the Indonesian army.
In 1999 civil war between Christians and Muslims broke out on Ambon. The bloody conflict lasted until 2002 when large groups of muslim fundamentalists (Jemaah Islamiyah and Laskar Jihad) who had infiltrated Maluku from East-Java suddenly left the islands in the wake of September 11. After the sudden disbanding of the fundamentalist fighters, the situation calmed down considerably. Today most of the destructions are repaired and reconstruction is in process.
Today Maluku is visited by only a handful of tourists every year. This is mainly due to the lack of touristic infrastructure but also caused by the special climatic conditions of the Moluccans. During the high season from June to September when most tourists come to Indonesia it is rainy season in Maluku. So definitely do not go there in summer. However there are always regional differences: The western coast of Halmahera and also the northern coast of Seram are usually dry in July/August. The big islands protect these areas from the rain.
Ambon is easy to reach - for Indonesian standards. There are daily direct flights from Jakarta. From other airports it is necessary to fly via Makassar (Ujung Pandang). From there several scheduled flights go to Ambon every day.
Also the big Pelni-Ferries connect Ambon with all major ports in Indonesia. However this way to travel is recommended only for visitors with a lot of time and a small budget.
Diving in Ambon
Camouflage - Hide and Seek in Ambon from Michael Bode on Vimeo.
Ambon is not only the hub and entry point for visiting Maluku, it is also an important diving destination on its own in Indonesia. Ambon is the only place on the Moluccas with land based diving opportunities (with the exception of Banda, where diving might be temporarily possible if you are lucky). All other diving destinations in the area - like Seram and Halmahera - are only accessible on live aboards. Most of them start their journey on Ambon.
Looking through the fish identification books you will always find hints on Ambon. Also some fish species carry the name Ambon in their scientific names like the Ambon Scorpion fish, the Ambon Cardinal fish, the Ambon Emperor or the Ambon Pufferfish.
Also the recently (2009) discovered frogfish species should have been added to this list of special Ambon-species. The new species was called Psychedelic Frogfish (Histiophryne psychedelica) in the end. Nobody really understands why the responsible scientists chose this name and did not take the name of the place, the new fish was found or at least used the name of the person who discovered ist. It is a fact that the new species has until now only been discovered in Ambon (with the exception of a 17 years old specimen which came from Bali).
Especially this last discovery underlines the importance of Ambon as an important hotspot of biodiversity in Indonesia. Therefore it is no wonder that more and more underwater photographers and videographers come to Ambon in search of special critters under water.
The most interesting critter spots are on the northern shore of the huge Ambon Bay with a depth of around 600 m. The underwater topography of the dive sites is a change of sandy areas, rubble covered slopes and valleys in between with some coral bummies. There are very few dive sites with really nice coral growth (Batu Berdiri). Most sites are covered with soft corals or algae. The real muck can be found in Laha harbour (Laha I). Here weird things can be found between old tyres, metal and plastic sandals.
Critter-Dive Sites in Ambon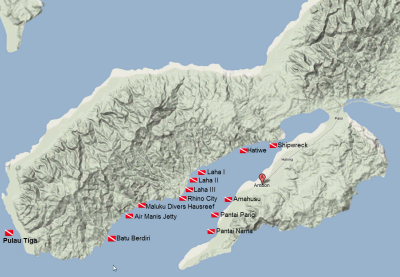 The map above concentrates on the critter dive sites in Ambon Bay. There are other dive sites with nice coral growth and walls in the South and West (Pulau Tiga). For all critter enthusiasts these dive sites are less interesting. There can be no doubt that there are better reefs in Indonesia than these Ambon reefs. Our drift dives at Pulau Tiga were not bad, but not as good, that we would have asked for more of the same.
Outstanding however are the critter dive sites on the northern shores of Ambon Bay. Here you can find everything you find in Lembeh, however visibility (20 m) is much better and as there is no black sand in Ambon, all dive sites have much better light than in Lembeh. Another advantage is the lack of other divers. Maluku Divers is the only dive resort very close to the critter dive sites which regularly visits these dive sites with one of their three speed boats .
Another, Indonesian managed dive resort on the southern coast, Blue Rose, is too far away from the critter dive sites. They usually dive the reefs and walls in the south. During our 11 day diving holiday in Ambon we did not see any other dive boats. However deeply frustrated guests from Blue Rose came to Maluku Divers complaining about the staff being unable or unwilling to take them out for diving.
Critter lovers will enjoy diving Ambon and most animals usually on the wish-list of serious divers and uw-photographers can be found here. With the exception of the Blue Ring Octopus, which did not show up while we were diving in Ambon, we found everything we were looking for. There were different species of Seahorses on many dives Like ( H. kuda und H. histrix) and a lot of different frog fishes - including the new psychedelic species. There are a lot of Ghost Pipefish and there are two spots with Rhinopias (R. frondosa und R. eschmeyri). Also most members of the Scorpionfish-Family can be found in Ambon. Most noticeable are the many Devilfish variations (Inimicus didactylus) on sandy patches. Especially in the harbour of Laha many stonefish can be seen. Directly below the fishing boats Mandarin Fish can be observed also during day time.
It is interesting that the Ambon Scorpionfish has not been sighted in Ambon for some years now. Funny enough you have to go to Lembeh or Bali nowadays to see it.
On sandy areas we always found Mimic Octopuses, Coconut Octopuses and Longarm Octopuses. During one dive we even watched mating Flamboyant Cuttlefish. During night dives Spanish Dancers and Boxer Crabs show up.
Have a look at the moon phases when you are planning a visit to Ambon: While there is usually very little current and excellent visibility in the bay in the time between full moon and new moon, conditions can change dramatically during full moon and new moon. Then the current can be quite strong and visibility can decrease to mere five meters. Also all the resident animals hide and seek shelter behind and under stones and coral bummies and are extremely difficult to find.
Ambon Critters

(c) Marcel Hagendijk
Dive Resorts on Ambon
Maluku Divers
For serious divers there is not much choice in Ambon. The critter dive sites in Ambon Bay are only visited by two resorts. Maluku Divers have been in Ambon for a long time and since they have moved from their former resort on the south coast to the critter dive sites they have really started to go upmarket.
The new resort is only 10 minutes away from the airport and offers accommodation in 10 spacious bungalows for a maximum of 20 guests who can share three speed boats. All critter-sites in the bay can be reached in 5 to 15 minutes. The diving area is spacious with big tanks to water cameras and dive gear. There is also a well lit and air conditioned camera room with plenty of plugs to charge strobes and lights. In each of the bungalows there is also a table reserved for cameras but is is not sufficiently lighted. NITROX will be available from October 2010 onwards.
The dive guides (imported from Lembeh) know the dive sites and fishes very well. They have excellent eyes and you literally can order the animals you want to see. Of course there is no guaranty.
The Balinese Chef and his team offer a tasty mix Western and Indonesian dishes. There is a choice of different breakfasts and three course meals for lunch and dinner.
At the time of writing this report (April 2010) there was still work in progress at the resort. The garden area outside the bungalows was not ready yet. The plants still need some time to grow bigger. The air conditioned, spacious bungalows are a bit dark inside and the gray concrete floor needs to be tiled to look less depressing. The beds are huge and comfortable.
| | |
| --- | --- |
| | |
| Maluku Divers Bungalow | Maluku Divers Seaview Bungalow |
| | |
| View inside Bungalow | Restaurant |
Blue Rose Divers
Cheap diving is available at the Indonesian managed Blue Rose Divers at Santai Beach on the south coast of Ambon. The resort is situated close to the dive sites in the south with beautiful walls and reefs. The resort's speedboats also visit the dive sites in Ambon Bay.
However during our visit in April 2010 the resort was not catering for divers. Walk-in visitors were sent away. The staff was not able or unwilling to organize diving. So it might be better to contact them in advance to make sure, there is somebody at the resort who is able to organize the diving. Blue Rose divers might be the choice for people with a lot of time and not enough money to afford the expensive Maluku Divers.
Cape Paperu
When typing the URL www.malukudivers.com or www.maluku-divers.com into your browser you will be surprised by the Cape Paperu Resort on the island Saparua. The Paperu owners have been faster than Maluku Divers and have snatched these two domains before Maluku Divers have got hold of them. So many divers who originally wanted to dive with Maluku Divers eventually end up in a different dive resort.
To make it clear: Cape Paperu Resort is not situated on Ambon. The resort is on the island of Saparu in the south of Ambon, about 75 minutes by boat from the harbour town of Tulehu. Tulehu can be reached by car and it takes an hour from the airport.
From Paperu nice coral reefs are in reach and further south at Nusa Laut there is the chance to see schooling fish and pelagics.
Dive Resorts on Halmahera
Since the end of 2010 there is also a new resort in the norther Moluccas. Weda Resort is situated on the eastern coast of Halmahera.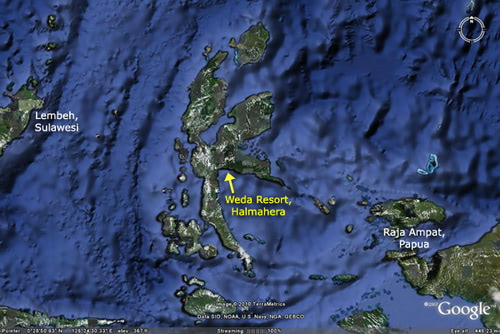 Rob Sinke, diving veteran and boss of Divers Lodge Lembeh, has started once again a new project and is now in the process of constructing the new resort. At the time of writing this report (2010) two simple bungalows close to the beach are already finished and for next year three more buildings are planned. Eventually the resort will have a similar size as the resort on Lembeh with 7 bungalows.
The fibre glass speedboats are 10 m long and specially designed and build for diving with 4 x 30 hp ultra low emission outboard engines, a toilet and 220 Volt power. Also the dive guides will be well trained guys from Lembeh.
As far as the diving at the resort is concerned there are yet no reliable information available. But as a real professional like Rob has chosen this place for his next resort there is a good chance also for experienced divers to find interesting stuff under water. Juli/August with strong winds from the south however might not be the best time to go to Weda.
Prices:
Eur 150,-/day/person (including fullboard accommodation (incl. all meals, water, tea, coffee)and 3 boat dives + nonlimit unguided shore dives)
Eur 50,-/night/person (for non diving day and fullboard accommodation)
Eur 250,-/person. Single: Eur 400,- transfer cost Manado - Weda Resort 2 ways (incl. flights, car, speedboat)
Live Aboards
Beside the land based dive possibilities described above there are many live aboards which also visit dive destinations in Maluku. This usually happens when these live aboards move in April from Raja Ampat to Komodo or in October when they go back to Raja Ampat.
Most of the ships visit during these tours across the Banda Sea also the Banda Islands and Ambon. Some ships also stay in the region during the European summer and cruise around the northern coast of Seram or the southern and western coast of Halmahera where conditions are calm in July/August.
In case you are interested in such a tour it makes sense to have a closer look at the itineraries and websites of the following live aboards:
| | |
| --- | --- |
| Amira | MV Amira is a very comfortable and spacious new live aboard. Like most other live aboards Amira is offering a Long Adventure and Snake Adventure in April/May and October. The Long Adventure normally includes southern Raja Ampat, Seram, the Banda Islands and Ambon. The Snake Adventure is the classical crossing of the Banda Sea from Ambon to Maumere on Flores. Amira is managed by Bruno Hopf, a very experienced Swiss cruise director. |
| | The Seahorse is a big and very comfortable traditional pinisi schooner which has been bought by Kararu recently. The Seahorse offers cruises to destinations in the Moluccas in the season (April and October). |
| | The Ondina is managed by the very experienced Ricard Buxó and has been around the region for many years now. Also the Ondina passes through Maluku in April and October every year. |
| | MV Temukira is a middle sized live aboard with average standard. This ship is often chartered by Graham Abbott fromDiving4Images. He offers dive trips for uw-photographers and videographers around Seram and Halmahera. |